Open a New Restaurant or Second Franchise Location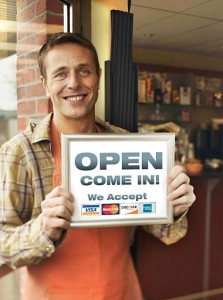 Citi Wide Merchant Funding has helped many restaurateurs looking to open a new location or redevelop their current restaurant. Clients in our grand opening program have been able to finance property and renovate their restaurant with a new merchant pos system or to increase sales and stay ahead of their competition.
Citi Wide Merchant Funding is pleased to introduce this new restaurant financing program structured for new restaurants and spas!
Other banks and investors are turning away new businesses. Citi Wide Merchant Funding's direct lending model allows new business owners access to working capital and business financing within a week of opening.
Citi Wide Merchant Funding knows how tough it is to start a business. When you open your new restaurant or spa make sure you have the capital to take your business to the next level.
Call us today and one of our account executives will explain and qualify you for our Grand Opening restaurant financing program. restaurateurs opening a second location are especially encouraged to apply.
Start-Up Financing Application Process
The Grand Opening Program is open to current and future restaurant / spa owners seeking additional capital to open a new location. Business owners must have a business plan, signed lease, photos of any renovations, permits and licenses, and completed menus to submit to Citi Wide Merchant Funding. This information will help our underwriters determine a restaurant cash advance or business loan amount suitable for your restaurant.